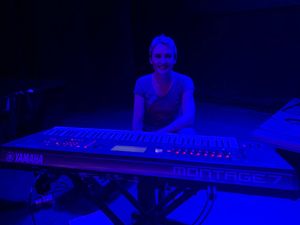 LEO SAYER (British born Billboard #1 and Grammy Award Winning Artist):
"Jaconell is so great to work with. We always have fun, and she makes my job onstage easy. That's 'cos she's one of us. She understands us singers, and is such an incredible musician and arranger too. I can't wait til we play together again..."
DAVE KOZ (American Saxophonist, 9 x Grammy Nominee, Billboard #1 Artist & "Hollywood Walk of Fame" star)
"When Jaconell is involved in a project you can just relax and know it's not only going to get done, but done in the most wonderfully creative and imaginative way. A total chameleon, she can do just about anything…and the thread that runs through it all is this amazing spirit that comes forth—you feel it in everything she does."   
JEREMY LUBBOCK (British born 3x Grammy Award winning arranger, 16 Grammy Nominations, 1 Oscar Nomination) 
"Jaconell and I shared a studio and worked together on projects for my clients all over the world for 8 years. Her work ethic, quality of work and attention to detail is astounding. She is a fantastic arranger / producer and has an unbelievable feel on piano. During my 30 years in Hollywood, I've worked with the best of the best and I put her in that same category."   
BRAD ROBERTS (CRASH TEST DUMMIES)
 "Jaconell is not only a superb musician. She is also a great human being."
HERMAN VAN VEEN (Dutch theatre superstar with a career which spans over 50 years)
"Als pianiste en arrangeur heeft Jaconell Mouton mijn leven verrijkt." 
English translation:
"As pianist and arranger, Jaconell Mouton has enriched my life."
STEF BOS (Critically acclaimed Dutch singer / songwriter)
"Jaconell is one of the top 3 pianists I've worked with in my 40 years in the music industry. When I sing and she plays, it feels as if we breathe in exactly the same way."
JOHAN STEMMET (Multi Award Winning South African TV Producer and Presenter)
"As ek een hoogtepunt uit my televisieloopbaan van 40 jaar moet uitlig, dan is dit ongetwyfeld die ongelooflike voorreg om vir die grootste deel van Noot vir Noot se loopvak asook op my ander musiekproduksies saam met Jaconell te kon werk. Haar gelyke as musikant, musiekregisseur en verwerker bestaan eenvoudig nie in Suid Afrika nie."
English translation:
"If I have to accentuate one highlight in my 40 year television career, it is undoubtedly the amazing privilege I had working with Jaconell for the biggest part of Noot vir Noot's lifespan, as well as being able to work with her on my other music productions for TV.  Their is simply no other talent in South Africa that compares to her as musician, musical director and arranger."
DARREN RAHN (American Multi-Grammy Nominated Producer / Artist / Mix Engineer) 
"Jaconell is an incredibly talented, tasteful, professional, thoughtful and reliable musician... What more is there to say? You need to hire her!"
WOUTER KELLERMAN (Grammy Award Winning South African flautist)
"Jaconell is a very rare talent, combining an innate feel for music with an incredible ear and a sophisticated and deep knowledge of the musical world."
CINDY ALTER (Multi million album seller; a nr 1 hit in 10 countries, Member of super-group, CLOUT)
"Jaconell Mouton is a gift to the music industry. I have been graced with her expertise on numerous projects, and she always goes above and beyond to ensure the part she plays in the production is of the highest order. My respect and love for her and what she does is huge."